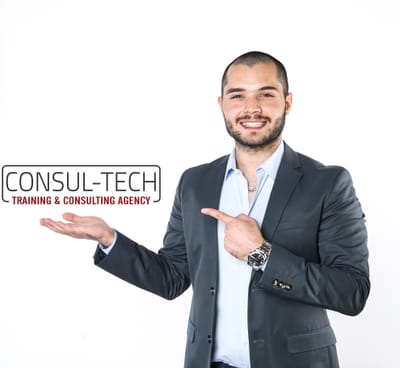 Aghyad AlSherfawi
is a certified self-development trainer from a British organisation called
ILLAFTrain
. This organisation is one of the leading training companies in the Gulf countries.
Since 2013, Aghyad has trained more than 500 trainees in Syria and the Netherlands.
As a self-development trainer, his main tasks are:
Creating new gamification and simulations for training and development purposes.
Designing and implementing appropriate E-learning strategies.
Developing human resource skills and capabilities by providing a wide range of training programs.
Leading trainees to think out of the box by enhancing their creativity.
Conducting individual evaluations to identify areas of improvement.
Developing individual training programmes that meet the skills gap identified through training needs assessment.
In the Netherlands, he started his career as a public speaker on many occasions as a freelancer. Then, regarding the cultural diversities and the communications gaps between foreigners (newcomers) and the Dutch society, he started focusing on these problems to reduce the misunderstanding gaps by presenting some of his courses like; Intercultural competencies, communications strategies, body language and others.
In November 2016, he started his first work opportunity in the Netherlands as an instructor in
Alfa-college.
His job description there was:
Training, coaching and advising the newcomers in the school.
Presented several intercultural communication symposiums in order to bridge the gaps in between the school employees and the students.
Improved the capacity of communication between students and teachers.
Planned, prepared and delivered instructional activities that facilitate active learning experiences.
Besides that, he is a 3rd-year full-time student at
Hanze University of Applied Science
(International business and management studies).
And he is planning to participate in the graduation minor of the
'International Strategy and Business Development.'
In 2017, he joined
Voorbeeld Allochtoon
team as a project leader. And some of his activities there were:
Leading and creating different kinds of cultural events to empower the integration between newcomers and Dutch society.
Delivering informative and inspirational speeches about newcomers in several theatres shows around the Netherlands.
Presenting general information about the Syrian culture, education, economy and other basic topics in many national and international symposiums.
Sharing his personal experiences as a newcomer to the considered parties, to help to improve newcomers' situations considering all affected elements.
Additionally, Aghyad is participating in many volunteering activities around the Netherlands. Some of them were with
'Humanitas'
, in order to improve the general overview of the newcomers. Some of those volunteering projects were;
'Samen'
and
'The Human Library.'
Aghyads'
goal is;
"To help newcomers in creating better opportunities to integrate into the Dutch society, and to expose their values."
Today Aghyad offers a wide range of programs and services.