The Free English Courses After Movie; Program 2018/ 2019
Dear Newcomers in Groningen province,
We would like to announce to you for the first time the FREE English language courses in Groningen.
The courses will be provided for the two following levels; A1 and A2.
And in order to learn while using integrational manners, Dutch citizens will have the chance to join these courses for free as well.
To register, please fill your personal information in the following link;
https://goo.gl/forms/KajHlnYHeA7LFMVW2
P.S.: Only 40 seats are available. SO JOIN US NOW!
This initiative is funded by Link 050 and provided by Consul-Tech in cooperation with Jimmy's Groningen and Oranje Ster.
---
Beste nieuwkomers in Groningen,
Hierbij kondigen we voor de eerste keer een GRATIS cursus Engelse cursus in Groningen!
De cursussen zullen op 2 niveaus aangeboden worden: A1 and A2.
Daarnaast is er ruimte voor Nederlandse deelnemers, ten behoeve van het contact tussen nieuwkomers en mensen uit de stad/provincie, om mee te doen aan deze gratis cursussen.
Volg de onderstaande link om een registratieformulier in te vullen om je aan te melden;
Alleen de eerste 40 aanmeldingen kunnen deelnemen, dus wees er snel bij!
Dit initiatief wordt ondersteund door Link 050 en gefaciliteerd door Consul-Tech in samenwerking met Jimmy's Groningen en Oranje Ster.
---
،أعزاءنا القادمين الجدد في خرونينغن
.نود أن نعلن لكم وللمرة الأولى دورات اللغة الإنجليزية المجانية في مدينة خرونينغن
A1 و A2 سيتم تقديم الدورات للمستويات التالية؛
.ومن أجل التعلم أثناء استخدام أساليب تساعد على الاندماج ، ستتاح الفرصة للمواطنين الهولنديين للانضمام إلى هذه الدورات بشكل مجاني أيضًا
للتسجيل ، يرجى ملء معلوماتك الشخصية في الرابط التالي؛
https://goo.gl/forms/KajHlnYHeA7LFMVW2
!ملاحظة: سيتم تسجيل أول 40 شخص فقط
---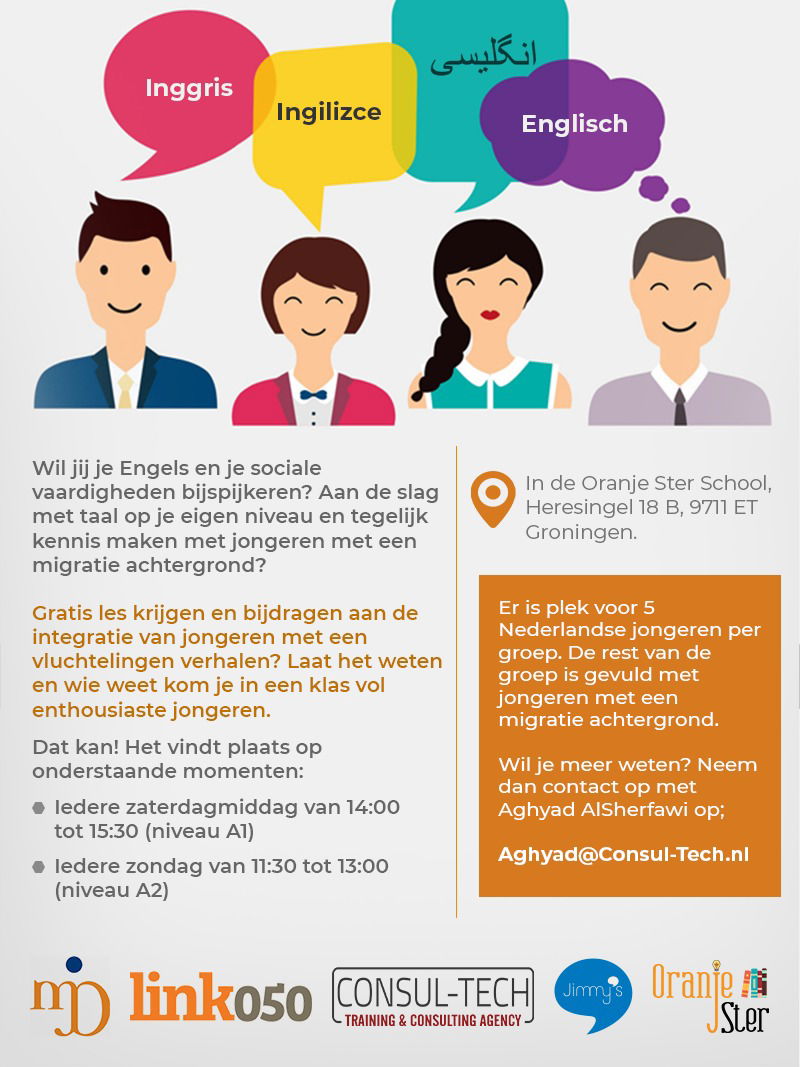 The Free English Courses Official Flyer; 2018/ 2019.