From the closing ceremony of the training workshop
🎯 Migranten aan Zet op de Arbeidsmarkt 🎯


The training was provided by Consul-Tech in cooperation with Link 050/ MJD Groningen (Migranten Aan Zet Project), and funded by the European Union 🇪🇺
After the end of the first training phase, 10 trainees now will be linked through the database of companies & organizations who are involved in this program to link them to their desired profession by providing the necessary training, certificates and knowledge to enter the Dutch labour market as entrepreneurs or as workers within a specific field.
All the thanks to the people and parties who have contributed to the success of this project 💐
More workshops will begin this March in cooperation with Gemeente Groningen (#Thuisin050) 🌟
For registration and more information
---
Van de slotceremonie van de trainingsworkshop
🎯 Migranten aan Zet op de Arbeidsmarkt 🎯
De training werd verzorgd door Consul-Tech in samenwerking met Link 050/ MJD Groningen (Migranten Aan Zet Project), en gefinancierd door de Europese Unie 🇪🇺
Na het einde van de eerste trainingsfase worden 10 deelnemers nu verbonden via de database van de bedrijven en organisaties die bij dit project betrokken zijn om de deelnemers aan hun gewenste beroep te koppelen door hen de nodige trainingen, certificaten en kennis te bieden, zodat ze de Nederlandse arbeidsmarkt kunnen betreden als ondernemers, of als werknemers binnen een specifiek veld.
Alle dank aan de mensen en de partijen die hebben bijgedragen aan het succes van dit project 💐
Meer trainingen beginnen in maart in samenwerking met Gemeente Groningen (#Thuisin050) 🌟
Voor registratie en meer informatie
---
من حفل خِتام ورشة العمل التّدريبية المُتخصّصة بدخول سوق العمل الهولندي
🎯 Training Migranten aan Zet op de Arbeidsmarkt 🎯


قُدّم التّدريب من قبل شَركة Consul-Tech بالتّعاون مع Link 050/ MJD Groningen (مشروع Migranten Aan Zet)، وبتمويل من صندوق الاتحاد الأوروبي 🇪🇺
بعد انتهاء المرحلة التّدريبية الأولى، سيتم الآن وصل 10 متدرّبين من خلال قاعدة البيانات للشركات والمنظّمات المشتركة بهذا البرنامج لإيصال كل شخص لهدفه المهني المطلوب من خلال توفير التّدريبات، الشّهادات والمعرفة اللازمة لدخول سوق العمل الهولندي كرائد أعمال أو كعامل بمهنة محدّدة.
كل الشّكر للأشخاص والجّهات الذين ساهموا بدعم هذا المشروع 💐
المزيد من التّدريبات ستبدأ بشهر مارس القادم بالتّعاون مع بلديّة Gemeente Groningen 🌟
للتسجيل وللمزيد من المعلومات
---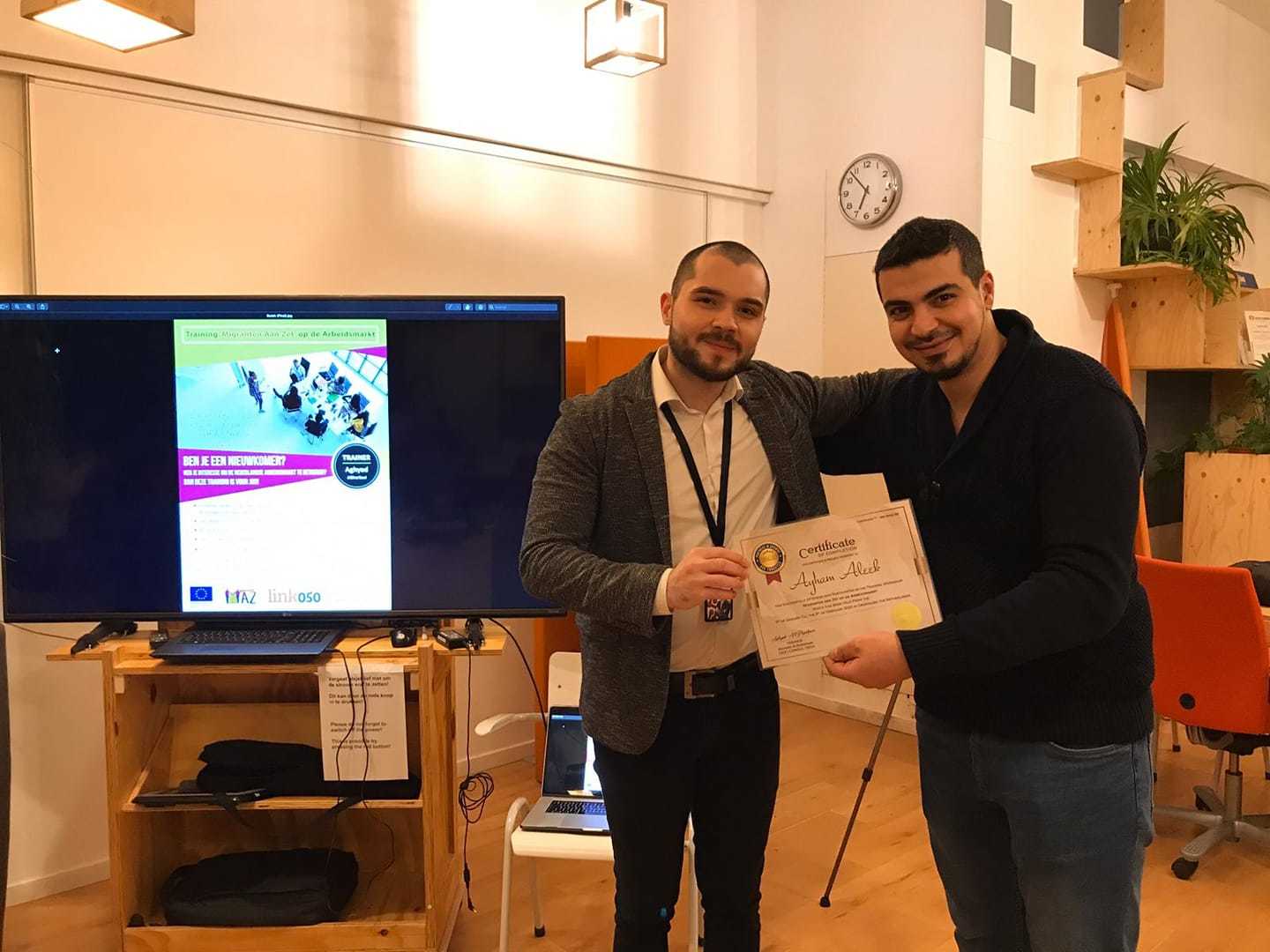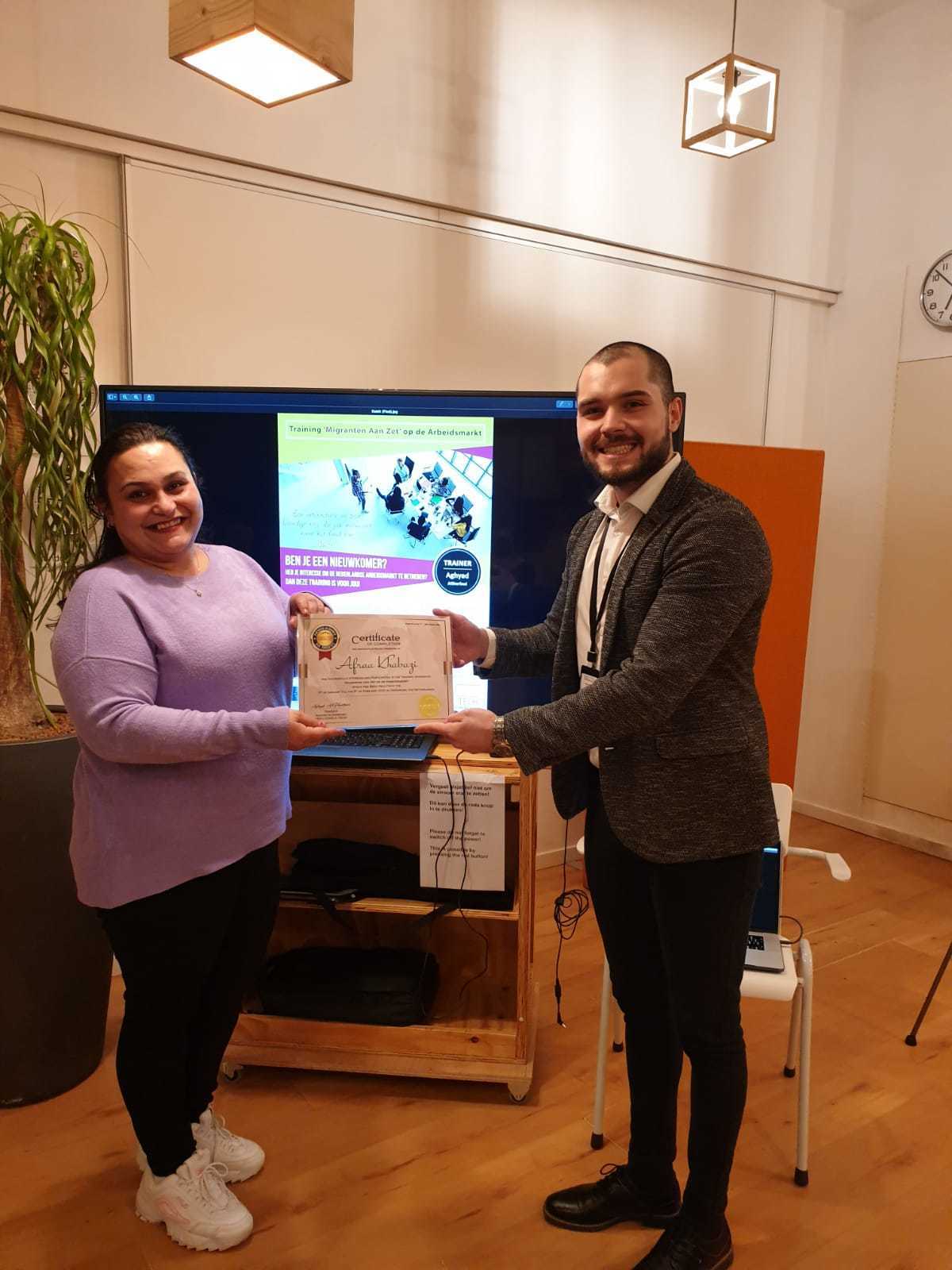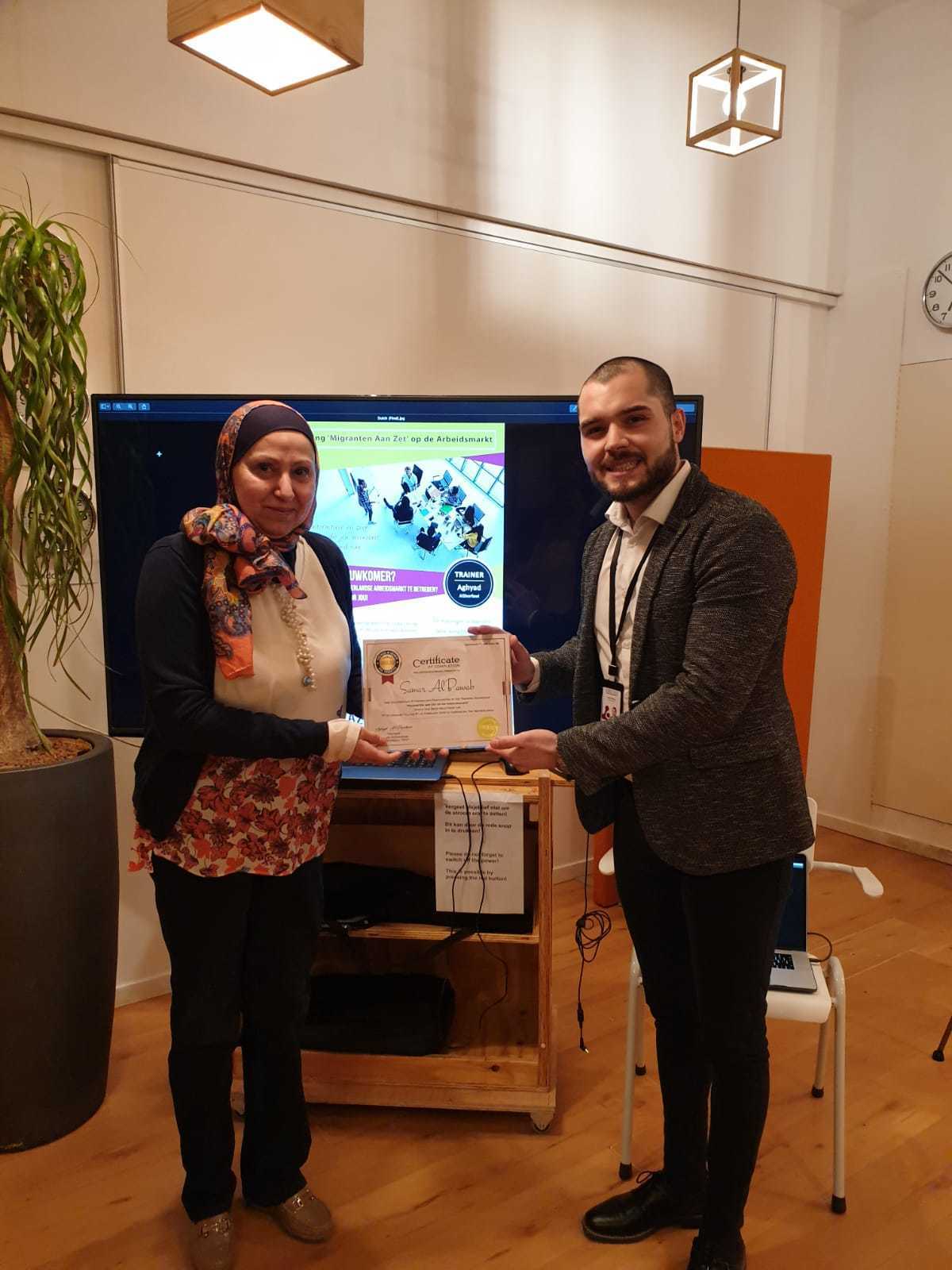 ---